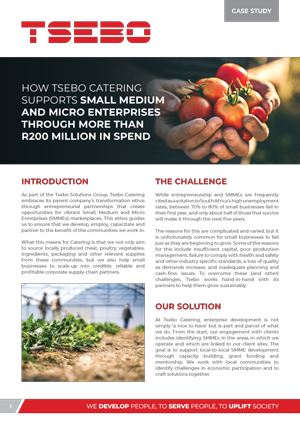 Tsebo is one of the highest rated large employers on the Department of Trade and Industry's generic B-BBEE scorecard, and is a certified Level 1 B-BBEE contributor with a procurement recognition of 135%.
Our Black Ownership (BO) component continues to grow and currently stands at 54.4%, with a 45.6% Black Woman Ownership (BWO) element.
Tsebo Catering Solutions has almost 700 business units across the country with a combined spend of more than R1-billion on food and beverages a year.
We help SMME's by ensuring that part of this spend goes to small businesses, while simultaneously supporting them and scaling volumes to allow them to grow at their pace.
Read more success stories here
Please contact us for more information