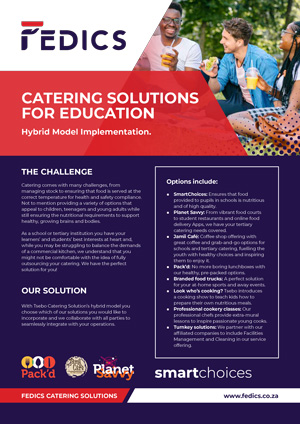 CATERING SOLUTIONS FOR EDUCATION
THE CHALLENGE
Catering comes with many challenges, from managing stock to ensuring that food is served at the correct temperature for health and safety compliance. Not to mention providing a variety of options that appeal to children, teenagers and young adults while still ensuring the nutritional requirements to support healthy, growing brains and bodies.
As a school or tertiary institution you have your learners' and students' best interests at heart and, while you may be struggling to balance the demands of a commercial kitchen, we understand that you might not be comfortable with the idea of fully outsourcing your catering. We have the perfect solution for you!
OUR SOLUTION
With Tsebo Catering Solution's hybrid model you choose which of our solutions you would like to incorporate and we collaborate with all parties to seamlessly integrate with your operations.
Click here to download our flyer
Please contact us for more information