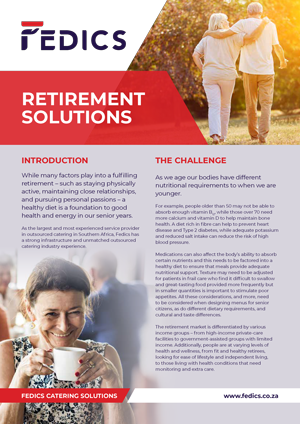 INTRODUCTION
While many factors play into a fulfilling retirement – such as staying physically active, maintaining close
relationships, and pursuing personal passions – a healthy diet is a foundation to good health and energy in our senior
years.
As the largest and most experienced service provider in outsourced catering in Southern Africa, Fedics has a strong
infrastructure and unmatched outsourced catering industry experience.
THE CHALLENGE
As we age our bodies have different nutritional requirements to when we are younger.
For example, people older than 50 may not be able to absorb enough vitamin B12, while those over 70 need more calcium
and vitamin D to help maintain bone health. A diet rich in fibre can help to prevent heart disease and Type 2 diabetes,
while adequate potassium and reduced salt intake can reduce the risk of high blood pressure.
Medications can also affect the body's ability to absorb certain nutrients and this needs to be factored into a healthy
diet to ensure that meals provide adequate nutritional support. Texture may need to be adjusted for patients in frail
care who find it difficult to swallow and great-tasting food provided more frequently but in smaller quantities is
important to stimulate poor appetites. All these considerations, and more, need to be considered when designing menus
for senior citizens, as do different dietary requirements, and cultural and taste differences.
The retirement market is differentiated by various income groups – from high-income private-care facilities to
government-assisted groups with limited income. Additionally, people are at varying levels of health and wellness, from
fit and healthy retirees, looking for ease of lifestyle and independent living, to those living with health conditions
that need monitoring and extra care.