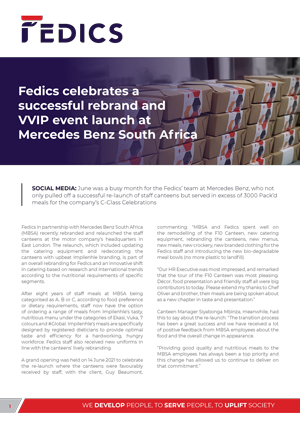 SOCIAL MEDIA: June was a busy month for the Fedics' team at Mercedes Benz, who not only pulled off a successful re-launch of staff canteens but served in excess of 3000 Pack'd meals for the company's C-Class Celebrations
Fedics in partnership with Mercedes Benz South Africa (MBSA) recently rebranded and relaunched the staff canteens at the motor company's headquarters in East London. The relaunch, which included updating the catering equipment and redecorating the canteens with upbeat Impilenhle branding, is part of an overall rebranding for Fedics and an innovative shift in catering based on research and international trends according to the nutritional requirements of specific segments.
After eight years of staff meals at MBSA being categorised as A, B or C, according to food preference or dietary requirements, staff now have the option of ordering a range of meals from Impilenhle's tasty, nutritious menu under the categories of Ekasi, Vuka, 7 colours and #Global. Impilenhle's meals are specifically designed by registered dieticians to provide optimal taste and efficiency for a hardworking, hungry workforce. Fedics staff also received new uniforms in line with the canteens' lively rebranding.