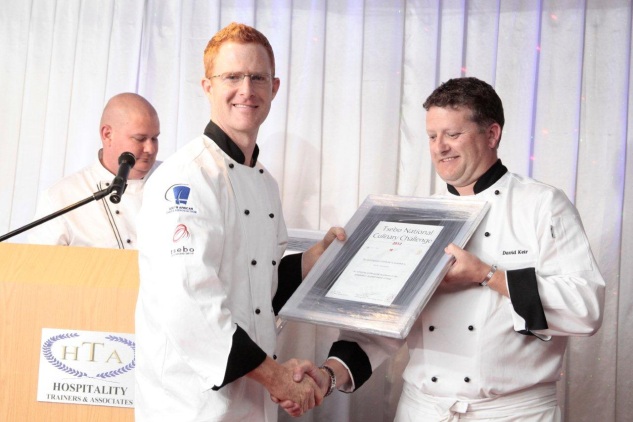 From left to right: Nick Newman, 1st seniors from Norton Rose, Fedics Inland Business alongside David Keir, Inland regional chef from Fedics
Tsebo Catering Solutions recently held its national culinary challenge at the culinary hospitality school, HTA, in Randburg.
The chefs were represented by Fedics and TS Afrika and they consisted of seniors, juniors and stalwart. The criteria for the competition was that the chefs had to prepare a three course meal for 4 people from mystery basket that contained mystery ingredients which they had to cook had three hours to cook.
John Boehler, Operations Director of Fedics Food Service division was one of four South African Association accredited judges to adjudicate the competition alongside Charl Gyzen, Richard Peerce and Coovashan Pillay. David Keir the Inland regional chef from Fedics who has been organised this annual event for eight consecutive years says that, "the standard at this year's cook-off was as high as ever and the competition is getting tight, the event was a great success and enjoyed by all chefs".
All chefs celebrated their victory at a cocktail party attended by local foodies, industry representatives and media.
The winners on the night included Seniors – Nick Newman, Fedics Inland Business Select. Junior – Felix Vilakati, Fedics Natal. Stalwart – Judas Shirindza, Fedics Inland Food Services.